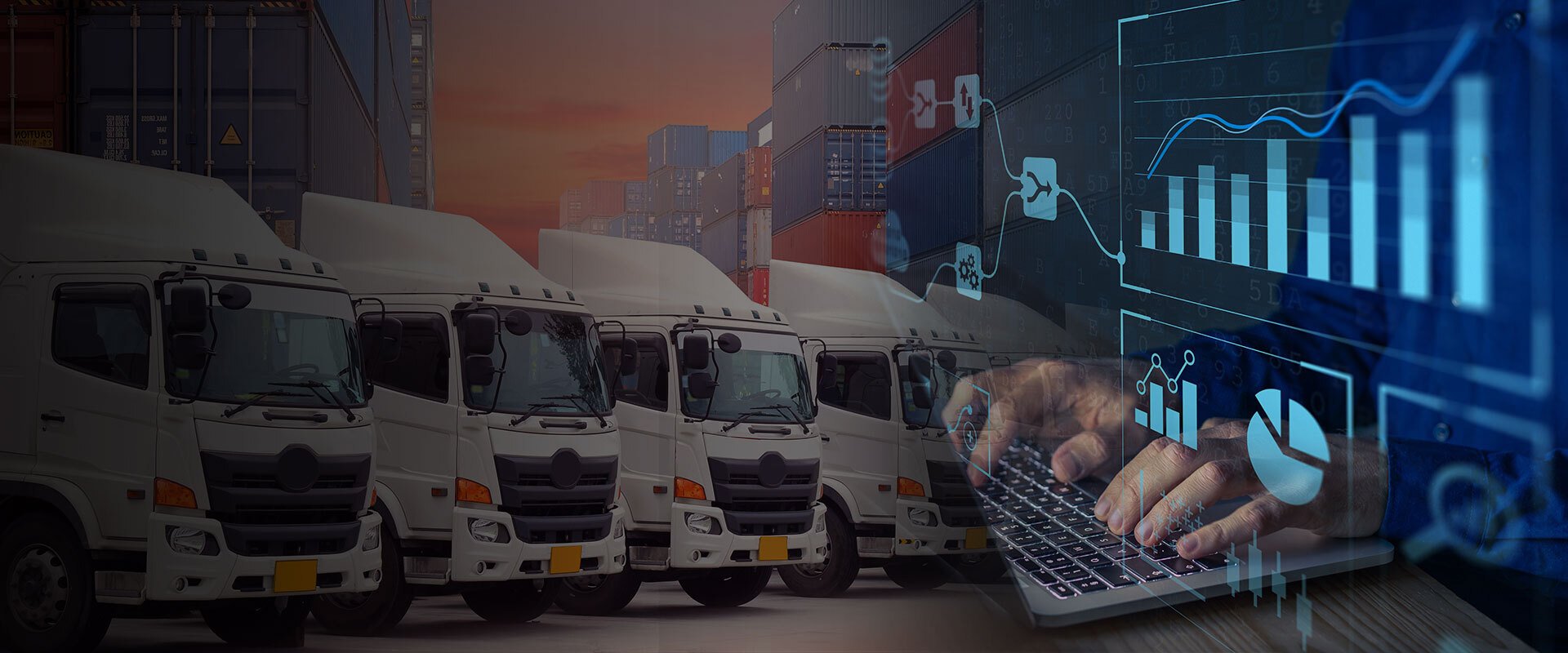 Achieve supply chain visibility with
Ikarus

Transportation Management System

software.
Digitalize logistics with out-of-the-box TMS solutions from Ikarus. Guaranteed free onboarding.
Supercharge your transport management with a web-based TMS software
Logistics is critical in the global supply chain as well as local fulfillment operations. With rising shipping costs and customer demands, everything must function smoothly. Transportation must go place on time, with minimal expenses, and without bottlenecks. As a result, businesses rely on software solutions to automate and speed up transportation processes. Examine the Track Ikarus TMS web-based software - intelligent transportation management system.
What is a transportation management system & how does it work?
Logistics is an important part of every supply chain. A TMS facilitates movement in the literal meaning of the word. It aids in the planning, organization, and optimization of all assets involved in the transportation of commodities. Let's take a deeper look at how the Track-IKARUS solution assists businesses in managing transportation one step at a time.
Transport management system for your efficient supply chain
There's no need to invest in costly IT infrastructure when all data about your shipments is saved in our cloud for when you need it. Furthermore, Track-IKARUS API was designed with complicated logistics businesses in mind, so we have all of your transportation management needs covered.
Freight tracking is one of the numerous advantages of sophisticated transport management systems, and it is a must-have for any logistics organization that handles many cargoes and carriers. Our TMS provides track and trace, putting you at the center of all freight movements at all times.
Finally, you may use all of the shipping data stored in the Ikarus cloud for immediate reporting and enhanced support of your KPIs. Real-time and historical freight information help you optimize your operations.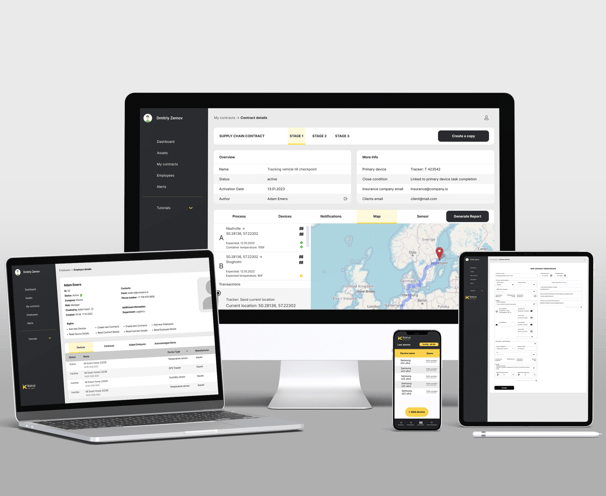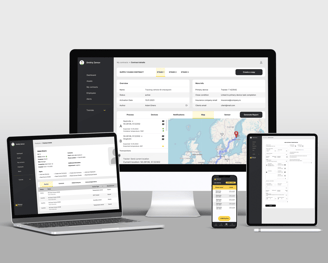 App Mobile for driver and admin
Planning for your assets and transportation management needs
Keeping all of your carriers, suppliers, and consumers on the same page may be the most difficult aspect of transport management. The only way to get around this is to ensure continuous data flow between all of your stakeholders. When combined with your ERP and Ikarus warehouse management systems (Ikarus WMS) or your WMS, a TMS enables precise and effective load planning. By connecting all systems, you can make smarter decisions that take into consideration all stakeholders in your network. As a consequence, you can predict and prepare accurately for all of your assets engaged in the flow of commodities.
Streamlining manual tasks to focus on what really matters
There is a lot of labor to be done with your hands when it comes to the actual moving of products. That is why TMS software is designed to automate typically manual operations. With transportation asset management software, you can rely on AI to get things moving while you focus on what requires your full attention. Add your cars, employees, and orders to the system, and IKARUS-TMS will handle the rest. With automated transportation management, you have more time to develop and think creatively.
Keeping track of all your shipments' progress in real-time
The most challenging component of transport management may be keeping all of your carriers, suppliers, and customers on the same page. The only way around this is to guarantee that all of your stakeholders have constant data flow. A TMS, when used in conjunction with your ERP and Ikarus warehouse management systems (Ikarus WMS) or your WMS, allows for exact and effective load planning. By integrating all systems, you may make more informed decisions that consider all stakeholders in your network. As a result, you can precisely estimate and prepare for all of your commodities-flowing assets.
Moving away from printed freight documentation
Digitalization is important to global trade. The sooner your company joins, the further ahead of your competitors you will be. The longer you wait, the more likely you will be excluded from the game. The good news is that when you have a TMS, digitization in transportation management is simple. Gone are the days when you had to wait for a printed document to be returned to your office before completing a shipping. TMS-Ikarus enables you to eliminate paper from your supply chain and transition to 100% electronic proof of shipping. Furthermore, with our blockchain, all papers signed with digital signatures will be shared and memorized by all partners.With our IKARUS APP, you may sign digital documents such as CMRs, proof of delivery, and more. These documents will be kept in blockchain and authenticated with a time stamp and geo-stamp from your mobile device.
Ikarus TMS used the our distributed ledger for confirme the origin of data, protect the communication and signed document. With our netowkr the data still available for 10 years all data and documents. Moreover with our solution it will be possible to follow all chain and keep the history without manomission.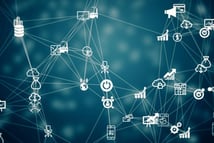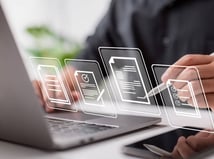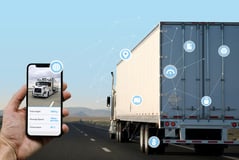 Ikarus TMS permit to the company to issue different types of documents : CRM, Bill of Landing (we are provider of FIATA), Proof of delivery, invoices and parcel and support more than 24 different types of documents.
With Ikarus, TMS is possible to connect IOT devices on the truck, container, or wagon and receive the data in real-time. Data about the truck from the gateway (Fuel, speed, axle, pressure and much more), and we can receive temperature, pressure, or shock from the IOT devices installed on the goods. Moreover is possible to track not just from the mobile app, but IKARUS can receive data directly from the GPS tracker.
Our technology can be applied in different ways, from tracking and certifying the origin of individual goods to the complete control of the network. It is possible to track both customer orders and updates up to single sub-smart contract signings. Customers are able to observe each step of the process to make the full use of Ikarus platform. With immutable data, customers gain confidence in certainty of data origin and control of all processes.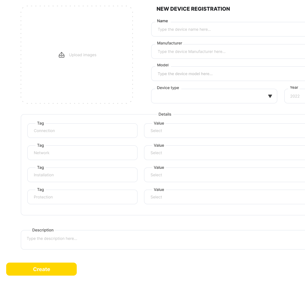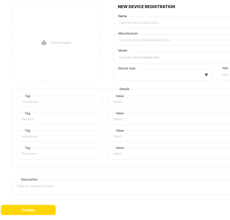 Registration of devices
After creating an account and wallet using our extensions, you may begin registering devices right away. This registration allows your device to connect to our network. All messages received from your device will be automatically delivered to your wallet from that point forward.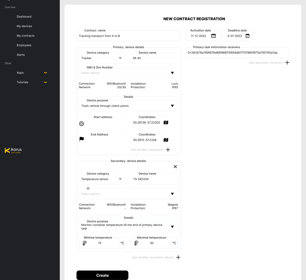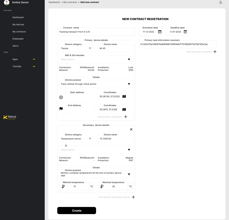 No-coding smart contracts
The next step is to create a new smart contract. Knowing how to program is not required for our platform, but it is sufficient to enter the necessary data. It will be possible to enter the point of departure and destination, tracking devices, digital sensors, and much more into the smart contract. It is also possible to define multiple restrictions, goals, times, and wallets for sharing updates.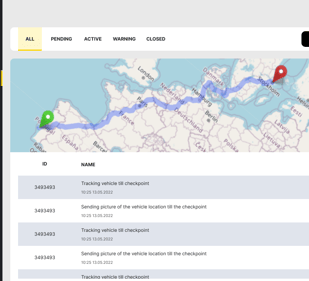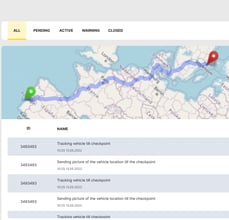 Tab on Ikarus Platform
Once linked, you will have access to all unencrypted data from active, in-progress, and completed smart contracts, as well as a complete list of active and registered devices, a list of users connected to the main wallet, and much more.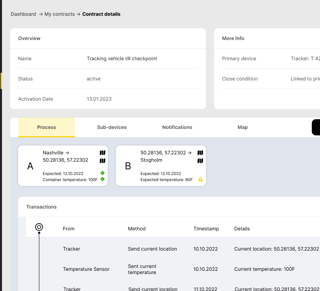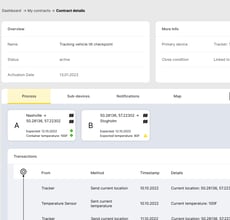 Smart contract details
Each smart contracts' update details will be available on the platform. Single position updates or sensor detections can be viewed in this section. It is possible to check each connected device, the notifications received, and the map to track each device's movement history.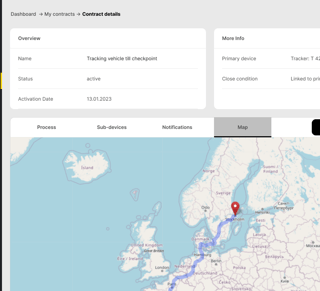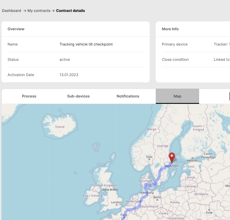 Map
The map displays real-time tracking and notifications from the sensors connected by the single smart contract.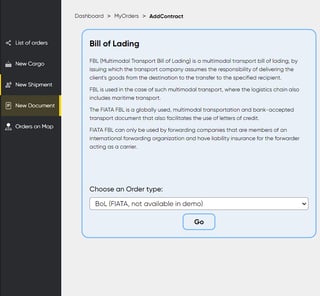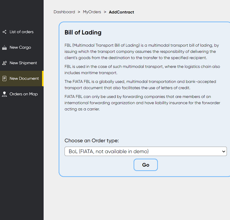 Digital Documents
Bureaucracy in logistics is one of the biggest causes of delivery delays. Ikarus co-creates the documents you need with your supply-chain partners, providing them all with necessary information. Platform ensures the visibility of documents and events such as uploads, retrievals, and surrenders to downstream partners, all while keeping the documented data completely private.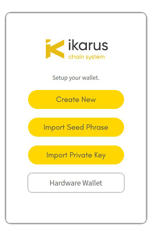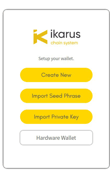 Ikarus Wallet
After registration on the platform is necessary to open the wallet with our Google extension. With this extension is possible to create sub-wallets, confirm the operation, and sign all operations or registration. This function permits to register of every single activity of company members and does not permit the member to change their activities after the signature or change the data.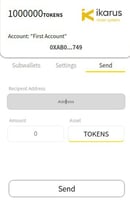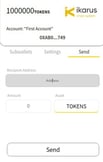 All orders and shipping data are stored in the TMS and Ikarus Network for complete transparency and real-time performance insights. Transportation data is easily shared and expanded upon after it has been translated into reports.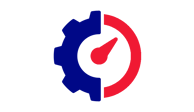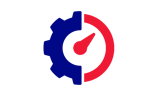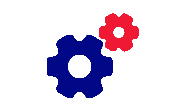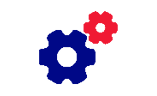 For simplified operations and maximum efficiency, transportation management can be connected with the enterprise resource planning (ERP) system. All of your resources are fully used.
Remove bottlenecks to improve your service levels. In the long run, web-based transportation management allows you to sync activities and operate quicker with the same resources.
Logistics costs can really pile up. An intelligent TMS like Track-POD helps you cut transportation expenses without sacrificing customer service. All thanks to automation and smart features.
TMS's digitization of logistics processes and bringing people in process management together in a single interface provides transportation management integration. It also provides fast access and easy efficient use of all your delivery information with just a few clicks.